Seaward Series 6.2L, 350 Mag MPI, 350 MPI Alpha-Bravo EC (Catalyzed-Delete) 2" Taller Exhaust System
Eliminate Catalyzed Exhaust Systems
Manifold is powder-coated for corrosion protection
Optional "Ocean Series" Extreme Corrosion Treatment available for additional interior corrosion protection 
Perfect for use on OEM engines up to 400HP 
Polished Stainless steel tailpipe is manufactured from premium 316L Stainless steel, 4" OD 
356T Aluminum Heat treated tubular style cast internal manifold core for header like performance
Kit includes all bolts and gaskets needed for installation
Requires Catalyst Eliminator Computer (See Related Parts)
2" Taller Than Stock Risers
We need to know your current riser height to make sure the risers will fit. See this image, we need height labeled "C". or find the part number on the riser such as in this image.
NOTE: THIS SYSTEM REQUIRES A HIGH DEGREE OF TECHNICAL APTITUDE TO INSTALL AND CONFIGURE. YOU MUST CALL AND SPEAK WITH OUR TECH SUPPORT DEPARTMENT BEFORE GETTING A QUOTE.
WARNING! This system is not to be used on emissions regulated waterways. The intent of this system is to allow the running of a catalyzed marine engine without the catalytic converters installed and without triggering any ECU error codes. With the engine operating in this condition, the emissions control system will be rendered inoperative. For this reason, do not operate the vessel on emissions regulated waterways. This system is not legal for any purpose other than testing purposes and not for use on any state or federal waterway.
This exhaust system was engineered for use on engine that do not require the replacement of the original catalyzed exhaust system such as open water international use vessels. Starting with the premium Seaward equal length runner 356T cast aluminum manifolds that then treated to the full anti-corrosion process and finally powder coated for durability . An all new 316L polished stainless steel riser was designed in incorporating the engines pre-O2 senseor as well as the additional necessary sender ports found in the original system. This system acts as a catalyzed-delete option and connects to the original rubber factory hose connection and replaces the factory system. A cat-eliminator conversion box #121-1205 is required and sold separately. Optional riser heights are available.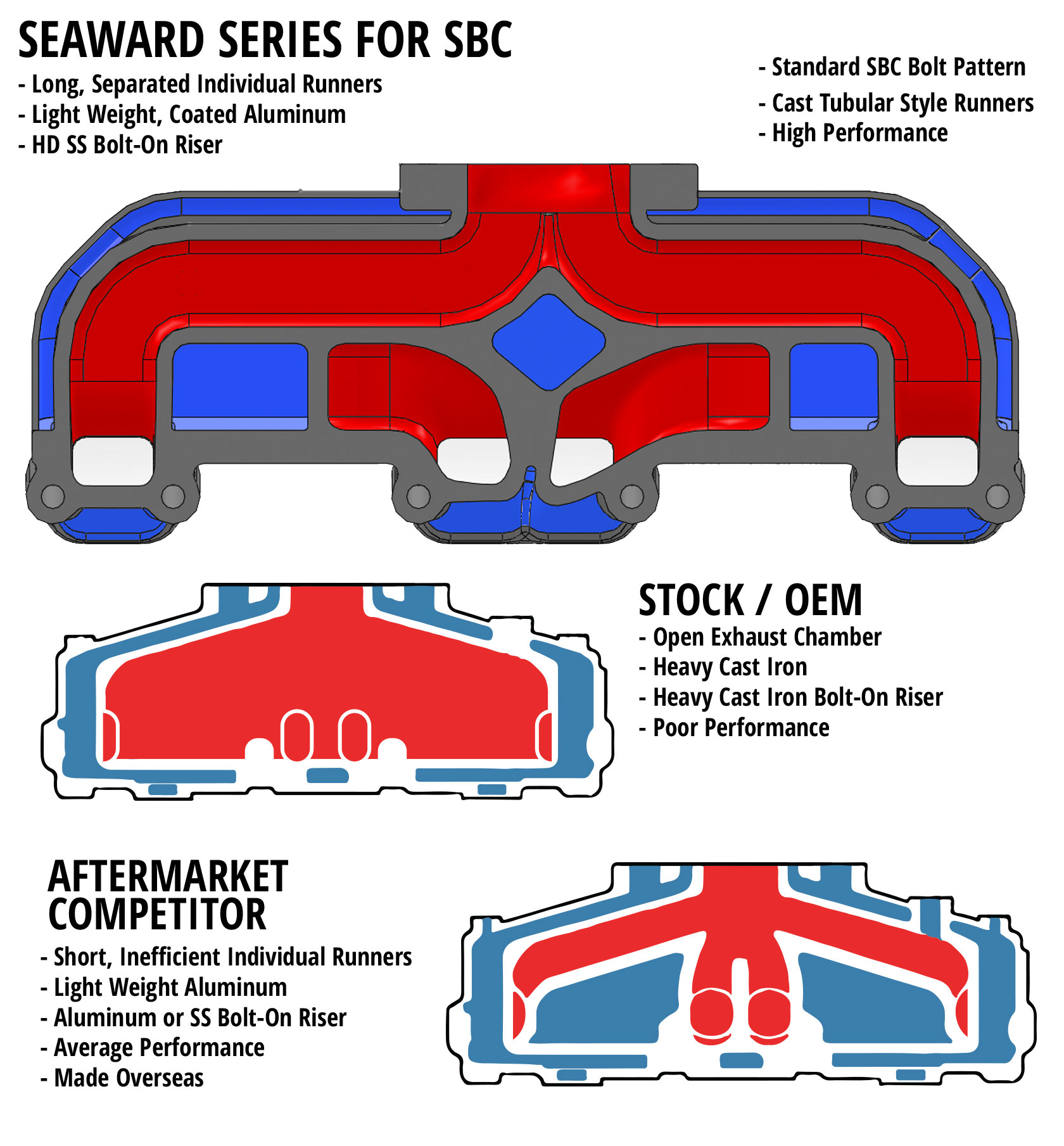 NOTE: This Item is currently out of stock. Expected Ship Date: (Contact Us via email for current availability)

You may place an order for this part but it will not ship until available. Any other items on your order will also not ship until this part is available. Please call us for more information.

I Understand this item is out of stock and my order will not ship until it is available. (Please Check Box)
Combine Your Purchase With
1 Total Upsell Products