Seaward Turbulator 
Seaward Turbulator

Designed for seaward series exhaust systems.

Turbulators are designed to keep any condensation or moisture from entering the manifold during the cool down process This is one of the many unique Hardin features that are helping lead the way in exhaust system technologies. Sold each, gaskets sold separately. 2 gaskets are needed per 1 turbulator.
MSRP: $40.00
You Save: 5% off MSRP!
Additonal Info On This Product:
The history of the "Turbulator" dates back to 1932 However the most similar design to the way it was patented and is currently being used by Mercruiser dates back to a patent filed by GIL Marine. Gil Marines Assets were later purchased by Hardin Marine who now produces the replacement Gil Exhaust systems and Seaward Systems.
The basic design of a "Turbulator" comes from aiding to prevent condensation created within a marine exhaust system as water passes from the engine exiting through the exhaust manifold and riser. The process of engine operation creates exhaust temperatures that reach anywhere from an estimated 600F – 850F when idling. With the exhaust manifold the water in the cooling jackets of the manifold and riser may never exceed much more than 125F. The result of this hot exhaust and cooler water jacket difference is much like what you will see when a glass of ice water creates condensation in a warm environment. This results in: excessive moisture and condensing within the inner passages of the exhaust. In some cases the amount of condensation can be enough to actually cause engine misfire if the exhaust is configured such that enough of this condensation makes its way back into the engine.
The design of a turbulator is pretty simple a brief explanation of how it functions and its design intentions can be found below:
The cone or protruding section of the plate creates the ability to capture condensation falling back down into the exhaust manifold creating somewhat of a reservoir. The exhaust manifold and riser/elbow (see image directly below). This reservoir then acts as a trap to catch and contain any condensation that is collecting on the internal exhaust passages. This reservoir also can collect water that may be present in the existing exhaust gases from reversion.
The reduction in size of the exhaust exit hole in the turbulator causes a low pressure area within the reservoir of the turbulator at the very point where the condensation is collecting. As the exhaust passes through the turbulator the slightly reduced size will accelerate the exhaust velocity increasing the exhaust to draw out any condensation collected in the reservoir area of the turbulator, that might be present that hasn't already been evaporated by the heat of the exhaust. The thin relative design of the turbulator retains significant heat from the exhaust flow that evaporates water left behind.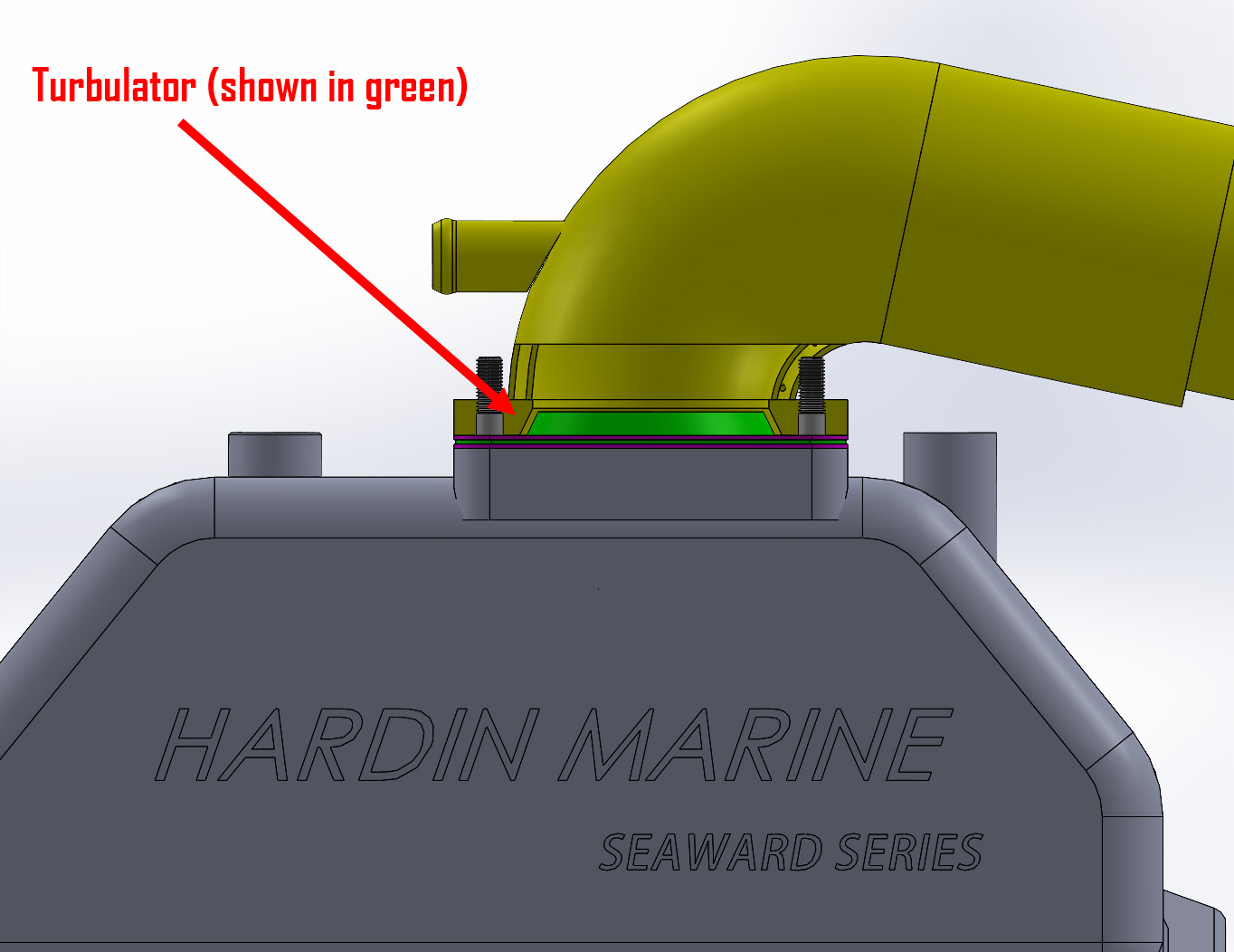 Reviews On This Product: