Livorsi Fuel Level Gauge 0-90 Ohms Industrial Series 2-1/16"
Livorsi 2-1/16" Fuel Level Gauge 0-90 Ohms, Industrial Series with Plug-In Connectors
Livorsi Marine's brand new line of Industrial Series gauges featuring SAE Rims with Plug-In Connectors.  This new series is a whole new family of gauges from 2" to 3-3/8" that you can mix & match to create a custom look. These gauges feature SAE stepped rims. Click here to see a comparison on rim types.
Livorsi Marine gauges are now easier than ever to install!  The Plug-In feature on these instruments significantly decreases rigging time. The DCH plug-in connectors are waterproof and resist salt corrosion.  All Livorsi gauges are encased in all non-ferrous hardware.  These gauges include state-of-the-art red L.E.D. lights, for easy viewing in low light conditions. Industrial Series gauges are only available in Standard sizes.
Overall gauge width is 2-3/8" and dash cutout size is 2-1/16".
NOTE:  Required DCH connectors are sold separately and will be added to your order along with the gauge.
ALL LIVORSI GAUGES ARE MADE TO ORDER AND SHIP FROM THE FACTORY IN 4-6 WEEKS.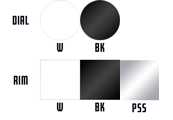 Need help measuring your gauges so you know what to look for when you finally upgrade to a more polished set? Check out this handy tutorial!