Stainless Steel Gen 7 Plus Sea Pump for Mercury 350, 496 and 502 Mag 
Stainless Steel Gen 7 Plus Sea Pump for Mercury 350 Mag, 496 Mag / HO, 8.2L Mag and 502 Mag (No Pulley)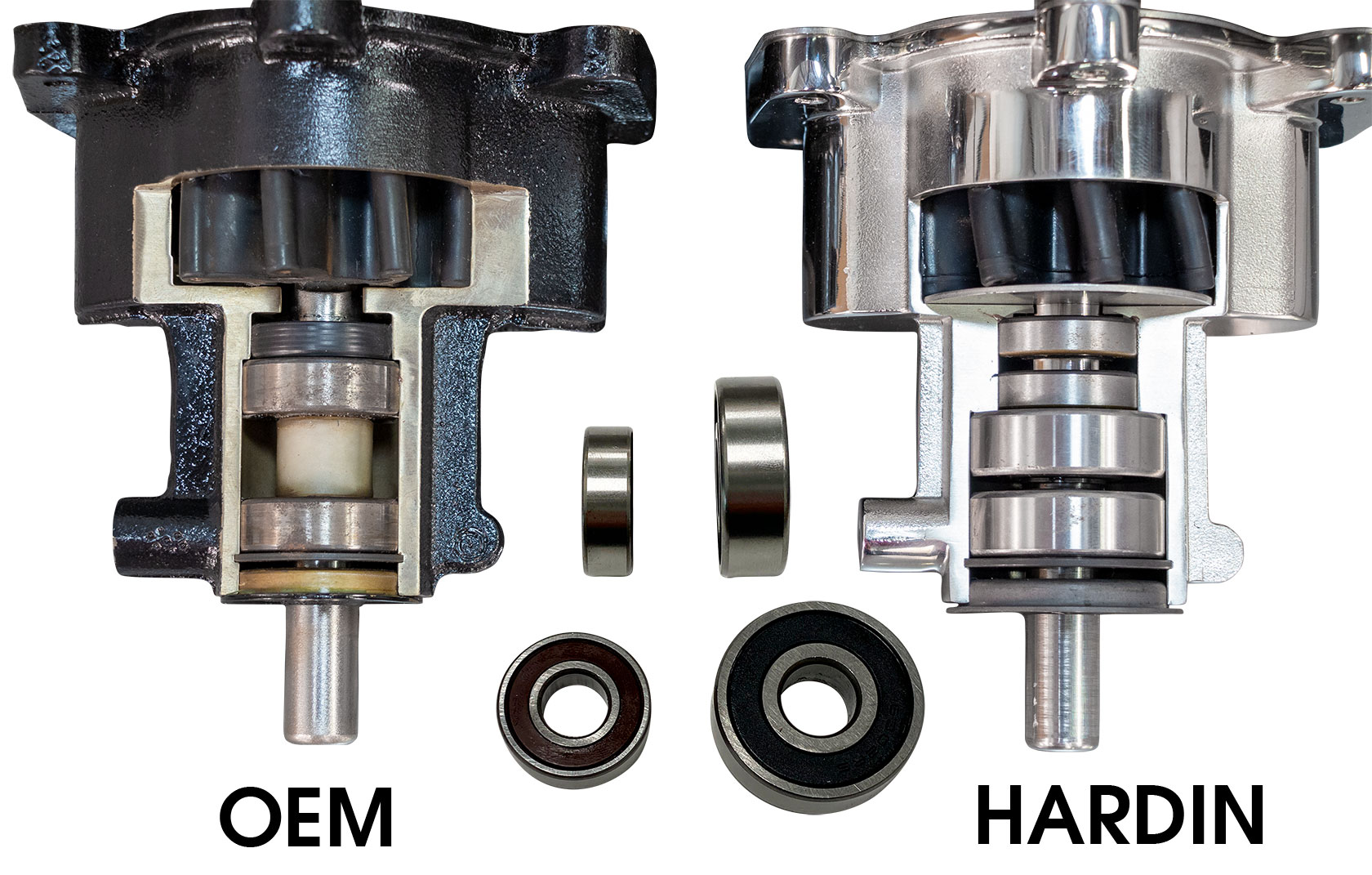 The NEW and IMPROVED Gen 7 Plus Sea Pump now includes dual seals and dual bearings. The bearing are also 40% larger than OEM bearings leading to even longer pump life!
NOTE:  YOU CAN PURCHASE THE MODEL WITH PULLEY PRE-INSTALLED (625-4131) BY CLICKING HERE.
100-percent factory leak tested to ensure OEM dependability
Premium SPEC-approved quality components
Premium SPEC-quality seals: utilizing OE face materials provides exceptional heat transfer and low friction
Endurance-quality bearings: severe-duty, precision-ground and lubricated Heat-treated bearing shafts to match rollers
High-quality, protective packaging
For a number of years now the factory sea pumps have been plagued with a design flaw that made each factory pump a throw away non serviceable item. While the impeller could be serviced it is the factory body that wears out prematurely. Without the proper tolerances these units just won't pump water. Well, Hardin Marine, the largest manufacturer of all Stainless Steel Sea Pumps set out to again solve the short comings of OEM equipment. By developing a stainless steel 316 heat treated casting Hardin Marine was able to incorporate new dual stainless steel serviceable wear plates as well as the use of a standard common Mercury water impeller. These characteristics have now turned this pump into a serviceable replacement that will provide years of serviceable life span. And all at a fraction of the cost of the original pump. So if you're out to update and upgrade to a pump that's designed to last a life time, look no further as it has arrived. Note: Impeller is included.
MSRP: $525.00
You Save: 6% off MSRP!
Videos On This Product:
3D Model Viewer:
Click Here to View 3D Model
Note: 3D Models are large files and make take a while to load especially on slow connections. 3D Model display requires a modern smartphone or desktop computer. Older devices may have poor performance.
Additonal Info On This Product:
NOTE: We Recommend replacing plastic drain plugs with Stainless Steel Plugs when purchasing a Gen 7 Sea Pump!
Frequently Asked Questions:
1. Does this pump come complete or do I need to buy any other parts?
A: This pump comes complete, it will re-use your factory rear pump inlet.
2. What if my rear pump housing is worn badly?
A: This surface no longer mates to the the new impeller, so it does not matter, the rear housing is now only a water inlet and exit for your new pump.
3. Does this pump feature wear plates on both sides of the impeller?
A: Yes it does, this is a unique feature of this pump, this will allow you to service this pump for years to come without any housing damage.
4. How does my pulley install?
A: You will need a simple professional pulley installation and removal tool. This tool is commonly found at any auto parts store. YOU CAN NOT PRESS THE PULLEY ON THE SHAFT. YOU MUST USE A PROPER PULLEY INSTALLATION TOOL TO INSTALL THE PULLEY. PRESSING THE PULLEY ON THE SHAFT WILL DAMAGE THE BEARINGS AND VOID THE WARRANTY!
5. Is any modification required to my factory mounting bracket?
A: No modification is required, this pump was engineered to accept the stock mounting bracket.
6. What impeller does this pump use?
A: This pump features an upgraded larger shaft and bearing assembly and is designed to use the
standard Mercruiser sea pump impeller
that has been around for 30 years and is readily available across the country. The impeller is included in the kit.
7. What OEM sea pumps does this fit and what OEM #'s does it replace?
A:Fits Mercruiser Gen 7 Sea Water Pumps (2000-Present)305/350/377/496 C.I.D 5.0L/5.7L/6.2L/8.1LTBI/MPI/EFI/MAG/Horizon/Scorpio
Replaces Mercury Part Numbers: 468M0122655, 46-8M0118067, 46-862914T08, 46-862914T08P, 46-862914T12, 46-862914A13, 46-862914A13, 46-862914T10, 46-862914T11, 46-8M0137217, 46-8M0139996, 46-862914A13, 0M615000 THRU 0W300012, 0W300013 THRU 0W309999, 0W310000 THRU 0W649999, 0W650000 THRU 1A063239, 1A063240 & Up

8. I'm having possible suction issues with my Mercrusier Gen 7 Pump, what can I do?
A:
Check out this link
for a troubleshooting guide.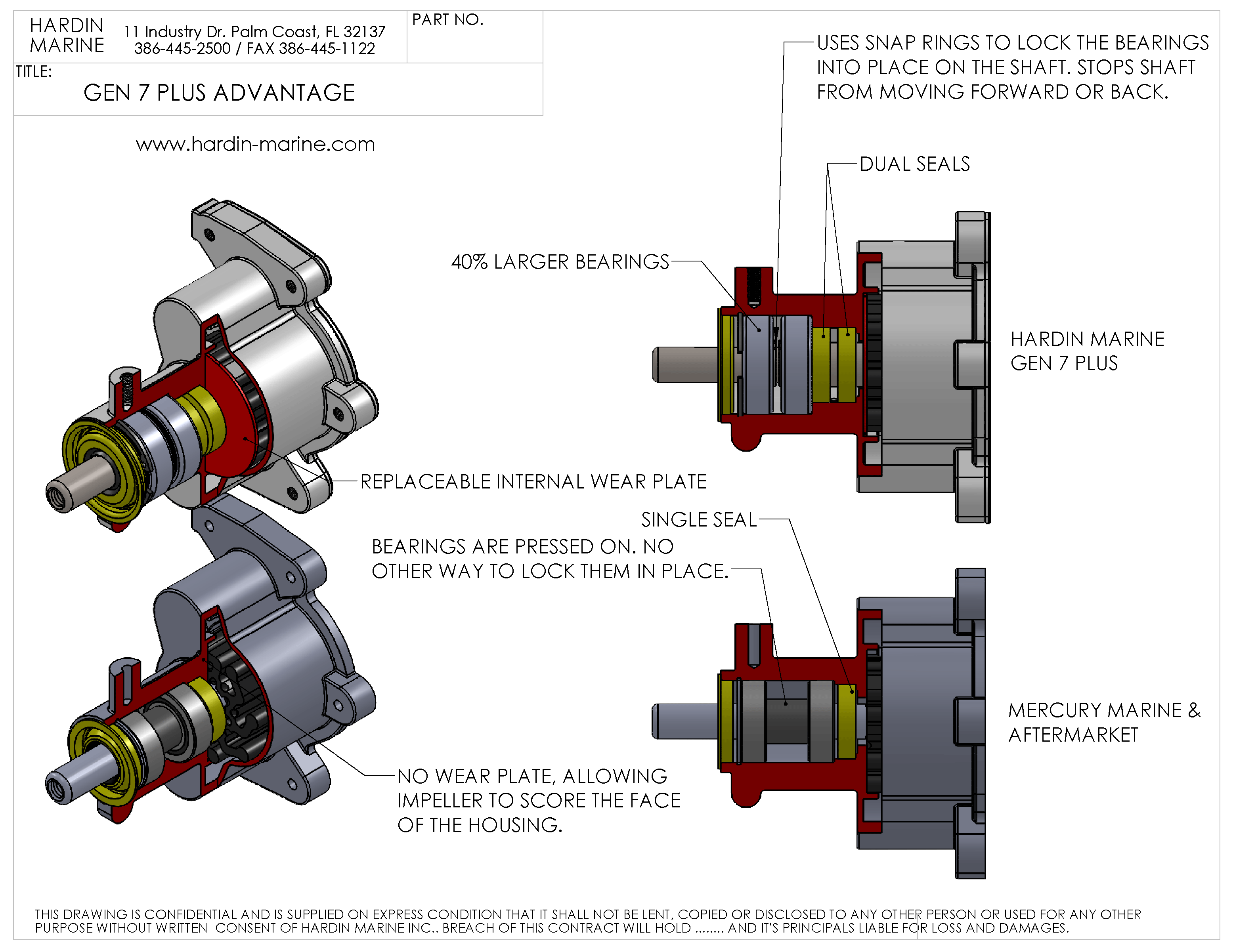 Reviews On This Product:
Showing comments 1-1 of 1