Livorsi Industrial Series Single Engine Five Gauge Set
Livorsi Industrial Series Single Engine Five Gauge Kits
We've decided to take some of the guesswork out of your next gauge set purchase. By combining the five most popular gauges we are able to offer you the very best gauges at the very best value. The industrial series gauges are only available in the Standard size. The Industrial Series is characterized by the SAE Rim. Industrial Gauges are only available in Standard Sizes
Gauge sets include:
3-3/8" 6000 RPM Tachometer
2-1/16" Oil Pressure
2-1/16" Water Temperature
2-1/16" Fuel Level
2-1/16" Voltmeter
Note:  Plug-In Connectors are sold separately.
ALL LIVORSI GAUGES ARE MADE TO ORDER AND SHIP FROM THE FACTORY IN 4-6 WEEKS.
These gauges are available with a WHITE or BLACK face, and WHITE, BLACK or STAINLESS STEEL rims.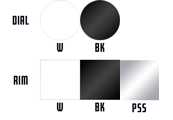 Need help measuring your gauges so you know what to look for when you finally upgrade to a more polished set? Check out this handy tutorial!